Digital technology has altered the way we work. Audio Visual (AV) is a key example of how technology is now a cornerstone to business success. More than just a tech-savvy communication tool, AV gives organisations the ability to respond, collaborate and build trust.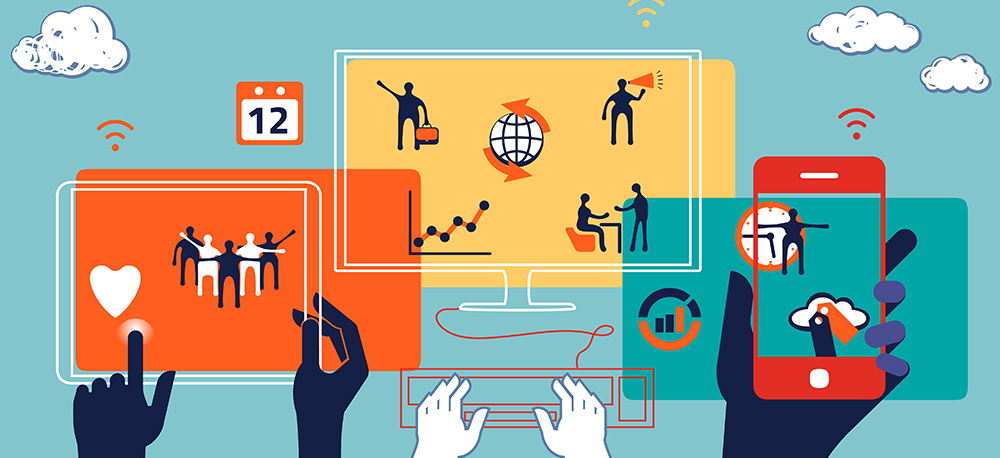 Organisations across most, if not all, industries and sectors now utilise AV technology on a daily basis. No wonder then that any investment in this area must facilitate productivity, rather than challenge it.
Here are five AV technologies that can change the way workspaces become more intelligent and efficient.
Table Top Meeting Room Systems
Table top meeting room systems include sleek, all-in-one consoles which feature BYOD support capabilities. With these, users can present content wirelessly directly from their individual laptops, smartphones and tablets onto designated room displays. Systems like Crestron Mercury also have exceptional sound quality so attendees calling in using mobile devices or standard SIP phone systems can hear (and be heard) with clarity. This enables remote attendees to present and participate as clearly as if they were in the room. Such systems are also built to meet stringent requirements around information security and confidentiality. Many now come with built-in sensors useful for collecting data so facility managers can better understand how well the rooms serve their purpose.
Video Conferencing Software
Video conferencing is probably the most commonly used AV technology. Its ability to replicate face-to-face meetings despite attendees being in different parts of the world is among its most touted advantages. Decisions can be made quickly, collaboration is heightened and the all-important factor necessary for strong business relationships – trust – can be built as a result of video conferencing. Ensuing time and travel savings yield further valuable benefits.
Solutions empowering video conferencing capabilities include Skype for Business and Pexip. The speed by which these offerings now permit people to meet or collaborate, plus the ease and simplicity in terms of connectivity, has revolutionised meetings. Adding to these are advancements in sound and image clarity, all of which have considerably enhanced the virtual meeting experience.
Room Booking and Scheduling
Room booking technology has been truly welcomed by organisations with multiple conference or meeting rooms, particularly if employees are located in offices across multiple sites. This technology streamlines room bookings and can even match the requirements of each meeting (e.g., location, number of attendees, as well as the required hardware and technology) to the most appropriate and available room. Such functions maximise the utility of each room besides providing a convenient means to room scheduling.
Intelligent, easy to use solutions include those by Condeco. Bookings can be made remotely by an array of calendaring programmes such as Microsoft® Exchange, Outlook, Google® Calendar™ and IBM® Notes®. Additional features include the ability to make manual bookings using a panel located just outside the room itself, and the ability to track how frequently a room is used. This latter function is useful if office space is scarce because it informs decisions around repurposing spaces.
Room Scheduling Touch Screens, such as those by NEC ShadowSenseTM or Crestron, work in conjunction with room booking technology and augment the ease by which rooms can be booked. Additionally, information regarding booked meetings can be accessed through these screens.
IPTV
IPTV extends the capability of AV to incorporate the functions of messaging, education and entertainment. Applications include integrated digital signage solutions and the ability to transmit tailored messages across multiple screens in different parts of the organisation. If leveraging IPTV and AV technology for way-finding, further return on investment may be derived as implementation can capitalise on existing IP networks, PCs and AV displays. To protect both the integrity and security of deployed content, many IPTV solutions include in-built security tools, functions and features. The ability to upscale systems to keep pace with organisational growth means performance levels are maintained even when usage demands increase.
Beamforming Microphone Technology
Beamforming microphones improve the quality of sound in video or telephone conferencing situations. They sense, capture and sieve acoustic waves to better broadcast voices. Tightly-focused audio pickup beams are steered towards people speaking while unwanted sounds and reflections are filtered out. These reduce background noises from being picked up, eliminating the hollow reverberant sounds that so often plague conference room environments.  Modern beamforming microphones are visually less intrusive, and their discreet installation delivers better aesthetics.
Voice Tracking Cameras
Voice tracking cameras improve the viewing experience for video conference attendees. Brands like Cisco have voice tracking cameras that allow presenters to move more naturally and freely around the room for a more engaging session.
Does your workspace thrive on collaboration and communication? Speak to Programmed to see if we can help you derive greater benefits from your current or future AV installation.