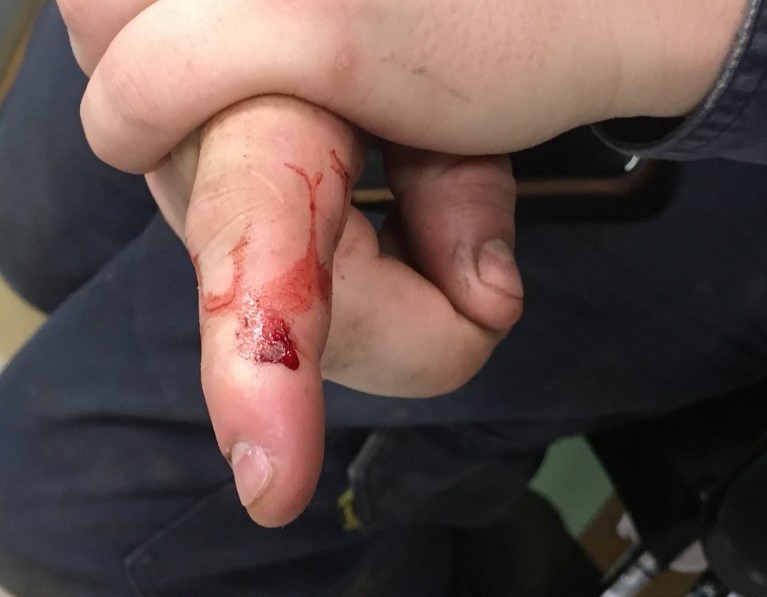 Incident Overview
An employee had finished using a high-pressure water jet in a sewer line and was winding the hose onto the hose reel. In the process of winding the hose, the employee went to remove the nozzle when a final stream of high-pressure water was discharged into the employee's finger.
Before winding the hose the employee had turned the water pump off using a remote unit, however had not followed manufacturer's instructions and turned the ball valve off at the mini-reel to discharge any water pressure remaining in the line.
The employee was immediately taken to hospital where his finger was cut to surgically remove water from the tissues in his finger. Additional surgery may be required and may result in partial amputation of the finger due to nerve damage from the high-pressure jet.
What can be done differently to prevent a similar incident from occuring?
Housekeeping & Order
Worksite should be kept immaculate at all times due to the potential for infection from wastewater operations.
Positions of People
Wherever possible, avoid putting parts of the body in the line of fire – even if it is just water.
Check the ball valve is 'off' and read the pressure gauge on the reel to make sure it is reading '0.0' before detaching the nozzle.
Protective Equipment
Gloves and safety glasses were worn in this instance, and did provide some protection had the stream of water been directed at the face how\ever a face shield MUST be worn when operating this equipment.
Rules & Procedures
Ensure personnel are trained specifically in operating equipment in accordance with manufacturer's instructions.
Ensure personnel are using the equipment in accordance with the manufacturer's instructions prior to authorising them to use it.
Tools & Equipment
High Pressure Water Jet equipment is extremely dangerous and presents a significant risk if not used in a controlled manner (exposure pressure the same as swimming 3.4 kms deep underwater!). Precautions must be taken at all times when operating this type of equipment.
Follow the manufacturer's instruction AT ALL TIMES.
HSE Representative: Richard Aitken
Date of Issue: 23 September 2020**
Download article
229 – High Pressure Water Jet Injury