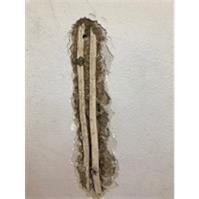 Contact with electrical cabling inside walls is always a risk to our workers. Often these risks are caused by improper cabling practices which are only discovered after contact has been made with the source of electricity.
In one incident, two workers received mild electric shocks when they touched a TV mounting bracket, not knowing that the screw holding the bracket had pierced electrical cables inside the wall.
Another incident occurred while a contractor was putting up a paper towel dispenser and his drill nicked an electrical cable inside the wall. No injury occurred.
Background
Recommended Ways to Control Risk
Check architectural drawings of the building for electrical wiring. If you don't have access to the drawings, scope out where plug sockets, lights and other electrical equipment is, which will give you an idea of where cabling will be. Cables generally run above and below and then across the fixtures, so approach these areas with caution.

Check both sides of the wall for any evidence of power such as power outlets, or electrical fittings.

Evidence that the wall has been re-rendered is also a sign that there could be cables within the wall.

Wherever possible, power supply should be isolated before drilling into walls.

When mounting a bracket to a wall, calculate the thickness of the gyprock, ply and the bracket itself and choose a screw that is the closest to this thickness. This will reduce the chance of the excess screw length penetrating cables inside the wall.

Use of a battery drill will reduce the risk of injury if the drill does come into contact with power.
**HSE Representative: ** Carolyn Hinton
**Date of Issue: ** 08/03/2022
Download article
245 – Electrical Risks in Walls