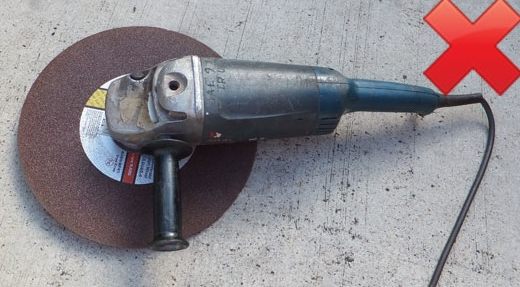 Background
Recently a Programmed Facility Management contractor was attending a customer site to repair a water leak.
After trying other non-evasive methods to identify the source of the leak, the plumber concluded that the leak was behind a brick wall cavity. They decided to use a 9-inch grinder to cut out a section of the concrete slab and the bottom course of bricks to expose the leaking pipe for repair, rather than source the correct tool for the job (demo saw).
During the cutting process, the plumber's left hand slipped off the handle of the grinder, resulting in their wrist contacting the cutting disc and causing a serious laceration to the outside of the wrist requiring multiple stitches and 8 days off work.
Safety Issues
Programmed don't allow 9-inch grinders to be used on our work sites (other than in rare and exceptional circumstances where approval has been granted by the relevant National or Group HSEQ Manager and additional controls are adopted) and they are also banned by many other employers. The ban is due to the high proportion of serious injuries that result from the use of these tools. Common injuries include amputations, serious lacerations and face / eye injuries from shattered cutting and grinding discs.
See below Prohibited Items and Tools as listed in Programmed's Subcontractor Handbook (p.57)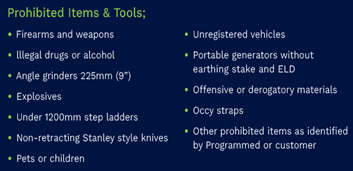 Recommended Ways to Control Risk
 Complete a risk assessment before commencing work and consider the correct tool for the job, in most cases there are safer tool options available than 9-inch grinders
 Engage with employees and contractors to ensure it is understood that 9-inch grinders are not permitted on Programmed jobs
 In rare and exceptional circumstances, if a 9-inch grinder must be used, then additional controls must be in place with approval to use the tool from the relevant National or Group HSEQ Manager
 Ensure employees and contractors understand and have access to Programmed's Subcontractor Handbook, and are aware of the Prohibited Items and Tools list
 Complete regular site inspections, tool audits and Worksite Reviews to verify expected controls are in place
 Ensure that tools are fit for purpose and do not allow tools to be used that have safety features like guards removed
 Operators need to be provided training and be deemed competent before using high powered alternate equipment, such as demo saws
Download article
260- Banned Tools – 9 Inch Grinders