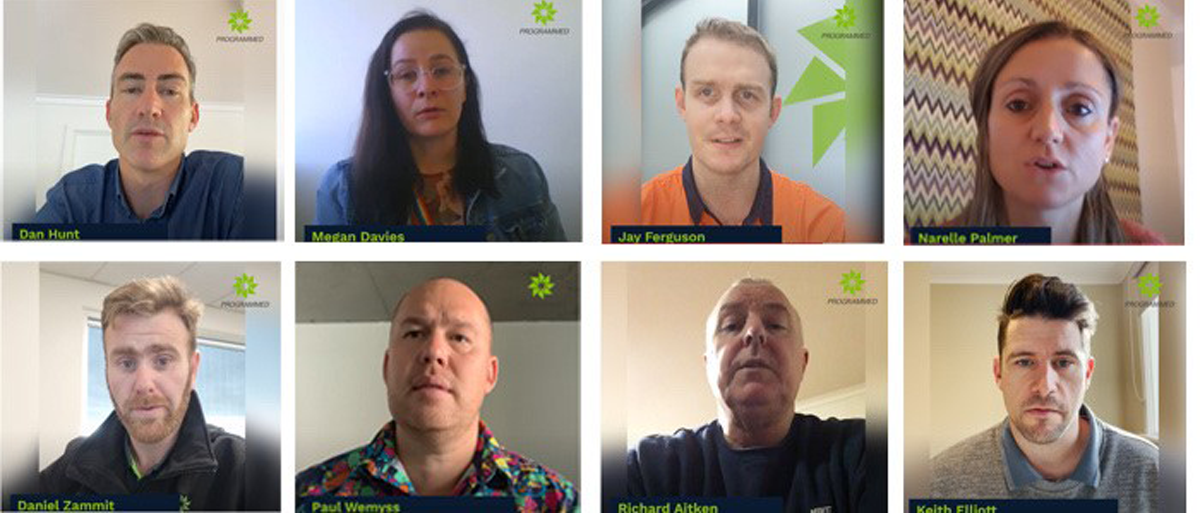 In the spirit of Tradies National Health Month, we recently spoke to several managers across the Programmed network to find out what's most important to them regarding safety and the safety of our tradespeople. We also asked them what they do to support a culture of safety across their team. Several key themes emerged, including respect, enabling employees and listening.
Respect
'We need to respect our tradies, by listening and learning from their real-world experiences,' says Dan Zammit from Programmed's Industrial Maintenance team. We know that those on the tools are the ones that are most affected by any safety issues that can arise and have the most to lose from them and therefore their feedback is pivotal to creating policies and procedures.
It's also important to have trust in our company's existing systems and processes in place as well as always be on the lookout for ways to improve what is already in place. Respect is all about making sure our tradies feel like they operate in a safe space where they feel they can speak up about any issues they have. 'We want to be sure that we're providing an inclusive and open environment,' says Western Region Health and Safety Manager Megan Davies.
Enable
Everyone knows that to do your best work, no matter the field, you need the right tools for the job, literally in many cases for tradies. Providing fit for purpose tooling, equipment as well as procedures is vital for the safety of those in the trades as well as creating efficient workers. National Service Centre Manager Narelle Palmer says, 'we give our teams the tools and equipment that they need to stay safe in operations'.
Warren Blay, Managing Director of Scavenger Supplies says that having solid job processes so that people know what they're doing and how they're going to do it is vital. As is knowing that they have backup if required. Going above and beyond the safety systems and procedures in place can make sure our tradies integrate safety into everything they do.
According to Trades Manager Patrick Faeller, collaboration and enabling our tradespeople go hand in hand. 'We work with our dedicated HSC teams to gather and assess each of our clients on their HSC policies and procedures as well as providing the appropriate HSC modules and training for each of our respective tradies.'
Listen
Creating a two-way line of communication is vitally important to creating a culture of safety in the workplace according to our managers interviewed. 'It's important to make the tradesmen feel that their concerns are valued and heard within the company,' says Ahmed Al-Mahanna. While Dan Zammit says it's important to listen to ideas and any suggestions on how processes can be improved or made simpler.
Megan Davies acknowledges that creating an environment where safety is front of mind doesn't happen quickly, and it's something that has to be constantly worked at. 'I think the biggest thing is that safety culture isn't going to happen overnight, it's a lot of hard work, and that hard work is from the people on the ground; our tradies, our apprentices, all of our employees that are working day in, day out.'
Making sure you're not just thinking about physical safety alone is also important to ensuring all types of safety says Keith Elliott, General Manager, National Accounts. 'We believe at Programmed that health and safety goes beyond the processes and systems to do the job and our people perform best when they're in a positive state of mind.'
'We build a strong, safety-focused culture through leading by example, sharing experiences,' says Narelle Palmer. 'Opening up for safety conversations and encouraging the best safe work practices possible.'
Group Worker's Compensation Manager Paul Wemyss stressed the importance of letting our tradies know how important it is to report injuries whenever and as soon as they happen. And that they be aware of the support they'll receive from Programmed if they were to be injured.
A safe workplace and a culture that embodies safety as a priority takes involvement from all. General Manager for Queensland Peter Byrne says it best, 'it's important to me, it should be important to you'.