Much like the industries that they will eventually grow up to work in, technology has radically changed the way children in classrooms learn.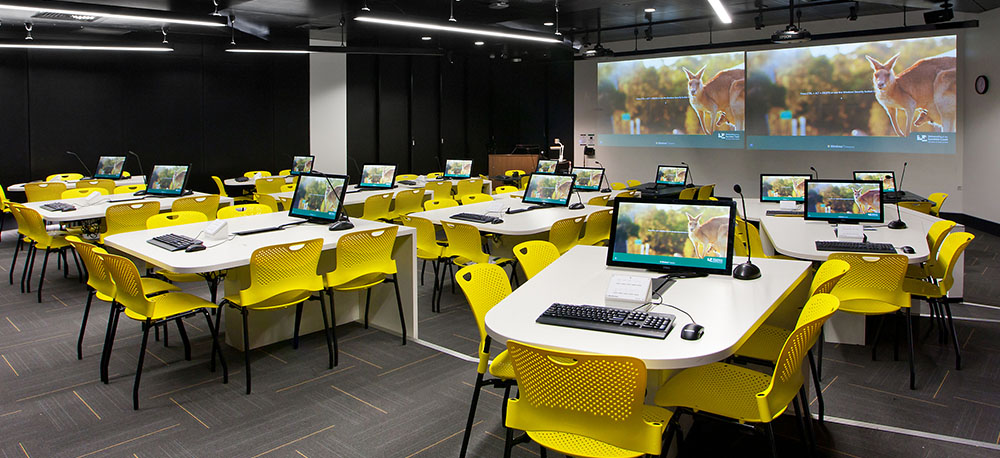 With the introduction of AV technology, teaching has become naturally more interactive and visually stimulating. Course material is now developed with the intention of being easily viewed on screen.
Through incorporating the use of diverse media for instructional purposes, including educational apps and electronic devices, the BYOD phenomenon in education is leveraged.
For business managers and principals within the education industry seeking to keep up to date with this technology, there are four main audio-visual (AV) technologies that are making great changes to active learning environments.
Interactive LCD screens are perhaps the most major additions towards modern day
classroom technology, as they stimulate their ability to socially construct knowledge with immediate feedback.
LCD screens are more inclusive: a greater number of touch points allow users to scroll, zoom, move and enlarge objects –leading to an innovative system that operates through fingers and interactive pens. Students are now able to have more control of how and what they learn as they motivate each other to change their methods of interaction and instruction.
For those looking to improve the visual experience of learning, interactive flat panel displays can help promote retention and understanding.
A durable, high quality display ensures a sharp clarity that can assist with specialised applications –such as research that requires finer detail and high-resolution graphics. These displays offer users a compact, clean look allowing notes and material to be compared and discussed with the advanced touch system.
AV apps and display devices used for wireless sharing collaboration could also significantly change the technology used in the classroom, perhaps spelling an end to cables entirely.
This kind of connectivity can be achieved using products such as the Extron Sharelink 200 Wireless Collaboration Gateway and SMART interactive panels – both of which offer easy access to content shared in the cloud and filter out unapproved content through Moderator mode.
Finally, Interoperable Video Conferencing allows users to participate in meetings and video-conferences on any device over any network to share files.
'Virtual meeting rooms' can effectively allow students to join using their own devices; meaning that offshore or offsite students are not physically limited.
In order for users to utilise these four technologies to improve classroom performance, Programmed Electrical Technologies has the right options available for any consumer in the education industry.
Programmed Electrical Technologies delivers on classroom technology
According to Programmed Electrical Technologies State Manager Michael Marafioti, his team can provide innovative business solutions for classrooms and teachers across Australia.
"We encourage buyers to sit down with us so that we can physically showcase what their AV specifications will look like in their classrooms," Marafioti said.
"After six months, we look at the feedback from students to see if it's been successful. IT managers may know how it all works, but Programmed want to know if it's actually been useful and fit for purpose."
Click here for more information on Programmed Electrical Technologies' AV solutions.