Has social distancing, working from home and self-isolation got you thinking of DIY home improvements? Our Programmed team of expert painters have a wealth of knowledge and experience. So we've asked them to share some pro-tips on painting and safety to help with your home painting projects.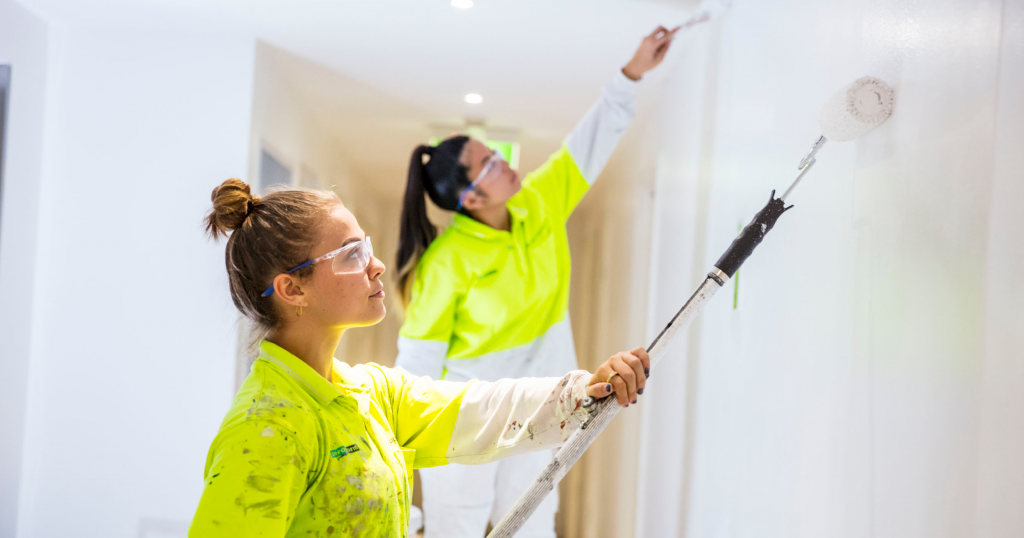 After having spent a fair bit of time at home during this period of lockdown and self-isolation, you may have noticed some aspects of your residence that could do with a minor refresh.
Better yet, you may now finally have the time to update the house and fix the paintwork you've been meaning to do for years. If so, get a helping hand with the useful tips below.
However, before you start any project, remember to always be safe. Questioning what could go wrong, taking the correct steps to address those issues first before starting and reminding yourself that short cuts are often not worth it, are necessary steps to include in any project. It will also ensure you are able to truly enjoy the fruits of your labour.
Plan
Before you start painting, it is best to have a clear plan of what you want to paint and how you are going to do it.
If you are feeling rusty with a paintbrush, a good tip is to start small. Choose something you can start and finish in a day or less like garden chairs or planter boxes.
This will help build confidence and inspire you to tackle larger projects later.
Prepare
Once you've chosen what you'd like to paint, you will need to ensure you have the right tools and paint for the job. To help you, we've compiled a list of items essential for a painting project.
Paint
For a long lasting, quality finish, use a reputable brand and make sure the paint you use is appropriate for the surface. Some things to consider:
Will you need interior or exterior paint?
Do you need enamel (oil-based) or acrylic (water-based) paint?
Tools and equipment
Paint brushes, rollers, roller tray
Painters tape/masking tape
Gap filler, filler blades/spatula
Sand paper, wire brush
Drop sheet or anything similar to protect the floor
Safety glasses and some old clothes or overalls
Extension poles or platform ladders to reach high places
Paint
Before you begin painting, always read the paint application procedures. It is crucial that you clean and properly prepare the surface to ensure the application of paint will adhere properly.
If painting interiors (e.g. interior walls, trim and doors):
Clean the walls.
Fill any cracks or holes with filler and then sand down.
Prime coat any bare plaster or filled areas.
Top coat (1 to 2 coats). If you are painting the same colour, one coat may be all you need. If changing the colour, you most likely need two coats.
For exteriors:
Follow preparation as above for the applicable surface types or areas such as timber, plaster, eaves and render.
If metal, remove as much rust as possible with a wire brush or mechanical means, follow up with a metal primer, then topcoat.

Handy pro-tip – If you're painting with a roller and decided to have a break or are in between coats, use plastic cling wrap around the roller to keep the paint from drying out.
Safety tip – Use extension poles or platform ladders to reach high areas, do not risk painting off a normal ladder. Over-extending your reach may cause you to lose balance, resulting in a fall.
Clean
Once painting is finished:
Clean brushes in solvent for oil-based paints and water for water-based paints.
Wash rollers and brushes in an old tin and let it go hard, or an area of the garden that is not used. Do not wash in the sink.
Ensure the lid is fitted nice and tight on any leftover paint.
We hope these tips will give you a better outcome when painting. What painting projects have you undertaken? Let us know by posting a comment and photo below.
Happy – and safe – painting!