There is a growing interest in healing gardens within the health and aged care sectors as the potential benefits of these become more widely known.
By Martin Crabb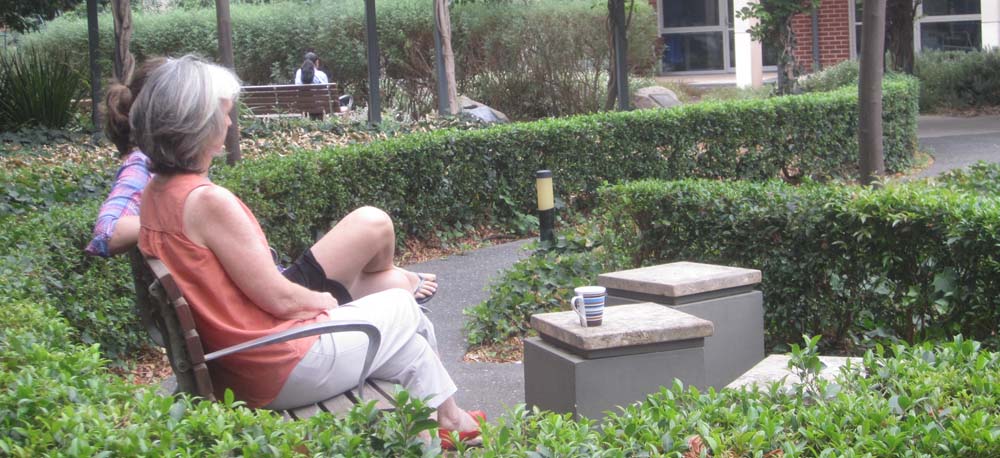 Healing Garden at Queen Elizabeth Hospital, Adelaide
"Gardening is a medicine that does not need a prescription…and with no limit on dosage." (author unknown)
The notion that nature can help alleviate ailments is not new. Over the centuries many cultures have provided spaces of somewhere peaceful to escape and relax. One example is the Japanese Zen Garden with reflection ponds, meandering paths and secluded areas for quiet mediation.
Today, healing gardens are often found in healthcare and aged care facilities with the objective of promoting healing in patients, families and staff. It has been shown in various studies that healing gardens can positively support the wellbeing of people with dementia and those on the journey of rehabilitation. Outdoor spaces give people the chance to be physically active, trigger positive memories, as well as providing a sense of freedom. Outdoor activities can help alleviate symptoms of alzheimers, dementia, stress, and depression.
One such garden Programmed currently maintains is at the Queen Elizabeth Hospital in Adelaide. The hospital has undergone significant redevelopment over recent years, and its new design is centred on the philosophy of 'healing environments' and 'healing gardens'.
The gardens at Queen Elizabeth have been specifically designed to promote positive emotional responses and provide sensory experiences. These gardens create a wonderful place to interact with nature with ground floor wards enjoying private courtyards, while other rooms enjoy open vistas. Studies have shown patients who can see a garden from their window demonstrate a noticeable recovery over patients who can't.
Gardens can also be beneficial in creating opportunities for social interaction. In relation to aged care villages, the humble vegetable patch can become a social hub with residents growing and sharing fresh produce. This opens the door to a shared passion, fosters good health and gives people a place of belonging.
When we design healing gardens, we ensure it stimulates people's senses with fragrant flowers and scented foliage. An example is the use of lemon grass that overhangs a path, menthol scented Corsican mint between stepping stones, or growing tropical, fragrant frangipani by a window. It's also important to use a variety of textures, colours and art work, like sculpture, to evoke contemplation. Additionally, selecting plants that have a dramatic seasonal interest also allows people to connect with the cycle of nature, as well as introducing running water to produce a calming environment.
I'm sure healing gardens, like the one at Queen Elizabeth Hospital, will be considered a necessity in the years to come.
If you would like more information on creating a healing garden, or maintaining an existing one, speak to one of our Grounds representative today.