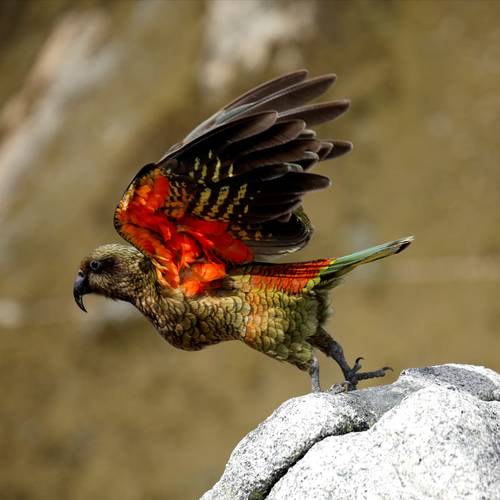 Programmed and PERSOLKELLY are continually looking for new ways that they can contribute to society and positively make a difference for future generations. Recently, with the desire to help protect New Zealand's biodiversity and enrich society and our environment, the decision was made to sponsor a Kea.
After learning there are fewer than 7,000 Kea left in New Zealand and that they are the most intelligent bird species in the world, Programmed's National HSEQ Manager, Jay Ferguson, contacted The Kea Conservation Trust, who assist in the conservation of wild Kea in their natural habitat.
The Trust allocated a male Kea based in Wanaka to Programmed and PERSOLKELLY and allowed us to name him. Staff from both businesses submitted names for consideration, and in the end, Norman (Miles) was voted number one. 
Norman was named after a gentleman, Norman Miles who founded Miles Paint Services in 1951 – which later became Programmed and was acquired by PERSOL Group in 2017.
Miles Paint Services began in Victoria, Australia, and expanded into the New Zealand market in 1986. From only three painters in 1951, the company has grown to have more than 30,000 employees working across New Zealand and Australia.
Mr Ferguson says that while Programmed aims to be Carbon Net Zero by 2030, we also need to be cognisant of how we can promote a better environment for future generations to enjoy.
"We acknowledge that there is a responsibility to protect our environment and contribute positively. The Kea is endangered and is one of the smartest birds in existence. It is about ensuring that this bird is around for future generations to enjoy," Mr Ferguson says.
PERSOLKELLY and Programmed are honored to be able to help make an ongoing positive contribution to society and the environment by supporting The Kea Conservation Trust and the great work that they do.
To view Norman's profile visit: https://keadatabase.nz/birds/norman-miles
More about The Kea Conservation Trust: The Trust has several key Kea conservation projects that need ongoing funding to support each year. These include their pure research projects, their threat mitigation work, and their community advocacy and education projects. 
For more information, please visit: https://www.keaconservation.co.nz/
More about the Kea: National Kaitiaki and Taonga Kea is a unique and endangered parrot (psittacine) species endemic to the Southern Alps of New Zealand. They are one of three parrot species that evolved in isolation over millions of years, playing an important role as alpine seed distributors and 'cleaners', and are highly valued as one of the most intelligent bird species in the world.