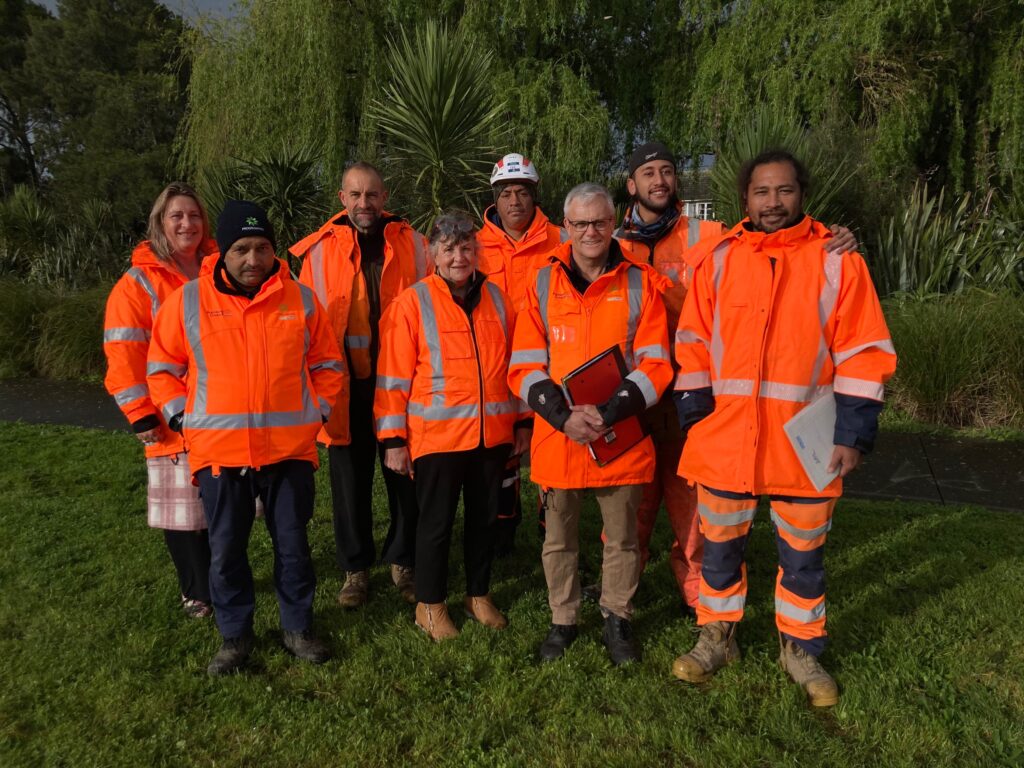 Looking after and maintaining our environment, communities, and biodiversity is paramount to Programmed Facility Management, and working alongside like-minded suppliers and subcontractors is a key factor in our success in being able to positively impact our communities today.
Recently, our Tāmaki Makaurau (Auckland) team, has, in collaboration with Auckland Council's Community Facilities team, who manage the Auckland RUA contract area, agreed to sub-contract out, under Programmed supervision, three park areas, Walmsley Reserve, Underwood reserve, and McGehan close.
These parks have, over the last five years, undergone a major re-vegetation and flood prevention project, called the Te Auaunga Awa project, managed by the Council Healthy Waters team. The project turned these parks from lawn only areas with a stream running through them, that not only looked bare and uninviting, but was also devoid of any biodiversity (land and waterways) or birdlife.
Five years on these parks are now returning to a more natural bush and stream ecosystem, that has not only improved the area for the surrounding neighborhoods and suburbs, but also increased bird life, waterway health and general biodiversity in the area.
This is where Te Whangai Trust comes in. They had been the sub-contractor to Healthy Waters Project team and had done a fantastic job in planting up and maintaining the three parks for the past five years. Programmed's Horticulture Service Delivery Manager, David Millward, was convinced that they would be the ones to continue this work, on our behalf. Especially after ongoing meeting that confirmed the following details, that fit well with Programmed's own environmental and social goals.
As a community trust, Te Whangai are a four-level socio environmental enterprise. They focus on creating and improving the following items in everything that they do.
Social
Environmental
Economic
Cultural profits
Te Whangai Trust is proactive in the community and cares about our environment and people. They are a social and environmental enterprise that assists long-term unemployed, youth and people at risk. They assist these people through ongoing mentoring in a structured and safe workplace and providing them with life and work skills as well as educational opportunities.
Their activity-based learning platform is a native plant nursery where individuals create, help build, maintain and work in this nursery. The Trust supports the individuals by advocating for them with agencies, sharing basic life and work skills, aspirations, and whanau experiences, training them in plant propagation and planting techniques, and undertaking NZQA qualifications.
Programmed's, David Millward, says it is fantastic to see the collaboration between a socially responsible group like Te Whangai Trust and a commercial company like Programmed.
"It creates great synergy, by us being able to provide income for Te Whangai Trust, so they can employ more people that in turn helps these people to get work experience, gain confidence and grow self-esteem. That in turn helps to lift them to go on and give back to society in a positive way. This reduces the social strain on government resources and makes for a happier and more balanced society.
"We feel confident that this will be a very successful collaboration," he says.
As of last week, Te Whangai Trust will supply the following deliverables:
Pest plant control, weed control, edging of gardens.
Infill planting each year as required in gaps left by plant deaths and vandalised plants
litter control in the actual garden areas – not in waterways as still Healthy waters.
Frequency of visits – every six weeks for general maintenance.
Watering of areas may be needed in drought conditions, to reduce plant deaths.
Includes cutting back to boundary fence, any overhanging pest plants from neighbours.
Adrienne Dalton Co-General Manager of Te Whangai Trust says, the "Te Auaunga Awa project, has special significance. Te Whangai piloted social procurement with Healthy Waters and created an award-winning model for social, environmental, economic, and cultural profit. This achieves four outcomes from every dollar spent."
Click here to find out more about Te Whangai Trust.
Click here to find out more about the Te Auaunga Awa project.