Some of my fondest memories of play outside as a child were building cubbies and tunnels in leafy branches at our holiday house located on the river Murray. This sort of play where children interact with the natural environment is now gaining more importance as an increasing number of schools and childcare centres are opting for natural playscapes instead of traditional playgrounds.
by Martin Crabb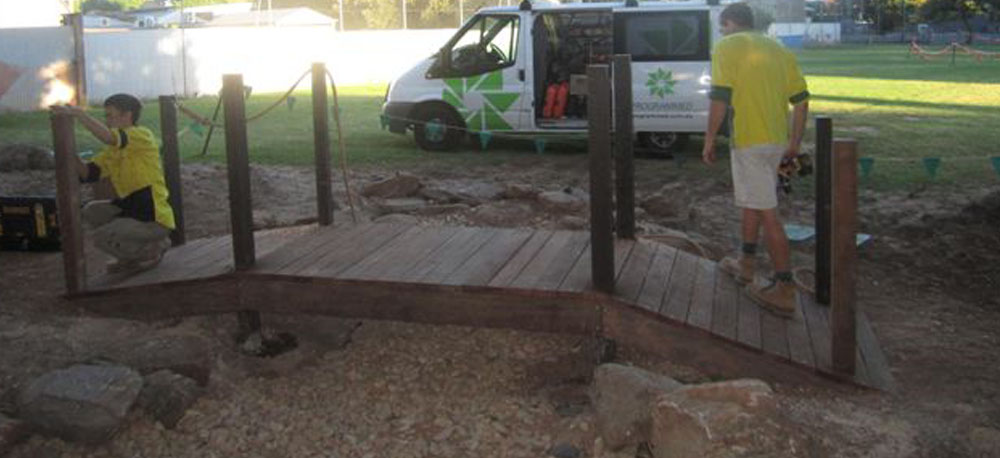 Research shows a child's development can be influenced by where they play and how they play. Natural environments can encourage imaginative play, evoking a sense of adventure and the interaction with nature.
A natural playscape is an alternative to that of a conventional playground area. A natural playscape is one that contains natural elements, such as:
Eucalyptus logs for seating.

Pebble dry creek beds planted with soft textured native grasses.

Local indigenous plants that stimulate the senses.

Contrasting textured foliage to attract native fauna.

Bush tucker plants. These are a wonderful way to teach children how diverse our plant kingdom is, such as the Backhousia Ciriodora and the Native Lemon Myrtle.

Another important component of a natural playscape are 'loose parts', including twigs, hessian cloth, wood, and other loose elements that enable children to create and construct their own play space.
Just recently, the South Australian landscaping team has designed a natural playscape for Unley Primary School located in the inner eastern suburbs of Adelaide. The design incorporates a meandering gravel path with a foot bridge made from recycled hardwood, naturally placed rocks and logs for climbing, and plants that are native to the local district.