Talent goes begging in competitive labour market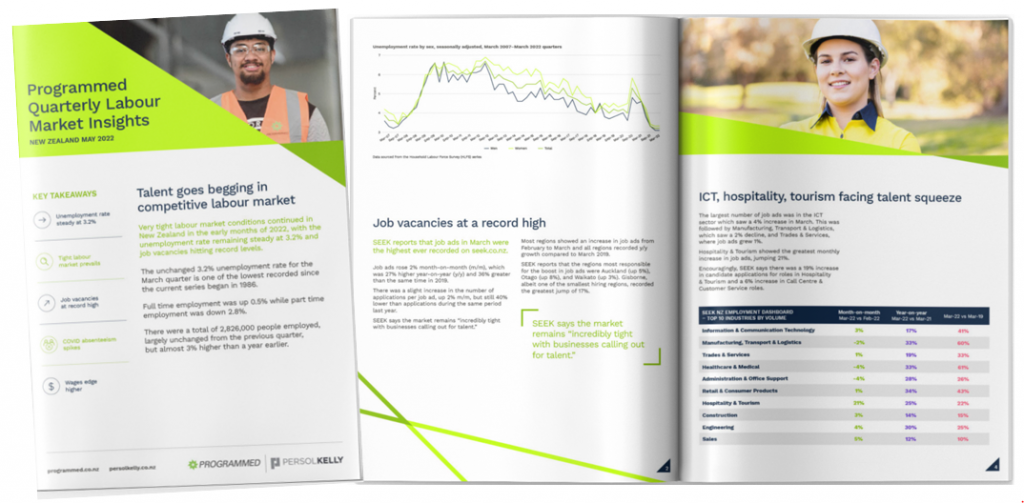 Very tight labour market conditions continued in New Zealand in the early months of 2022, with the unemployment rate remaining steady at 3.2% and job vacancies hitting record levels.
The unchanged 3.2% unemployment rate for the March quarter is one of the lowest recorded since the current series began in 1986.
Full-time employment was up 0.5% while part-time employment was down 2.8%.
There were a total of 2, 826,000 people employed, largely unchanged from the previous quarter, but almost 3% higher than a year earlier.
Key takeaways
Unemployment rate steady at 3.2%
Tight Labour market prevails
Job vacancies at record high
COVID-19 absenteeism spikes
Wages edge higher
Job vacancies at a record high
SEEK reports that job ads in March were the highest ever recorded on seek.co.nz.
Job ads rose 2% month-on-month (m/m), which was 27% higher year-on-year (y/y) and 36% greater than the same time in 2019.
There was a slight increase in the number of applications per job ad, up 2% m/m, but still 40% lower than applications during the same period last year.
SEEK says the market remains "incredibly tight with businesses calling out for talent."
Most regions showed an increase in job ads from February to March and all regions recorded y/y growth compared to March 2019.
SEEK reports that the regions most responsible for the boost in job ads were Auckland (up 5%), Otago (up 8%), and Waikato (up 3%). Gisborne, albeit one of the smallest hiring regions, recorded the greatest jump of 17%.
ICT, hospitality, tourism facing talent squeeze
The largest number of job ads was in the ICT sector which saw a 4% increase in March. This was followed by Manufacturing, Transport & Logistics, which saw a 2% decline, and Trades & Services, where job ads grew 1%.
Hospitality & Tourism showed the greatest monthly increase in job ads, jumping 21%.
Encouragingly, SEEK says there was a 19% increase in candidate applications for roles in Hospitality & Tourism and a 6% increase in Call Centre & Customer Service roles.
Absenteeism a major disruptor
Added to the skills shortage, businesses are experiencing high levels of absenteeism as people affected by COVID stay away from work.
Of the 2.8 million people employed in the March quarter, 44,200 were away from work for a full week because of sickness, illness, or injury, up 67% compared with the same quarter last year.
Statistics NZ notes that this measure has remained fairly consistent, but jumped by around two-thirds in the March quarter as Omicron cases began to increase in the community.
Read and download our full Q2 New Zealand Labour Market Insights report below.
---
Together, Programmed and PERSOLKELLY are the leading providers of staffing, operations and maintenances services across Australia and New Zealand and one of the largest workforce solutions providers in the APAC region.
From market-leading staffing programs to advanced people management, innovation and technology; we support your business to navigate and stay ahead of the rapidly changing world of work. 
Together our experienced, capable team of problem-solvers will help you achieve more.
If you would like to speak to a Programmed or PERSOLKELLY representative, please call us on 0800 453 559 (13 78233) or visit programmed.co.nz to learn more.