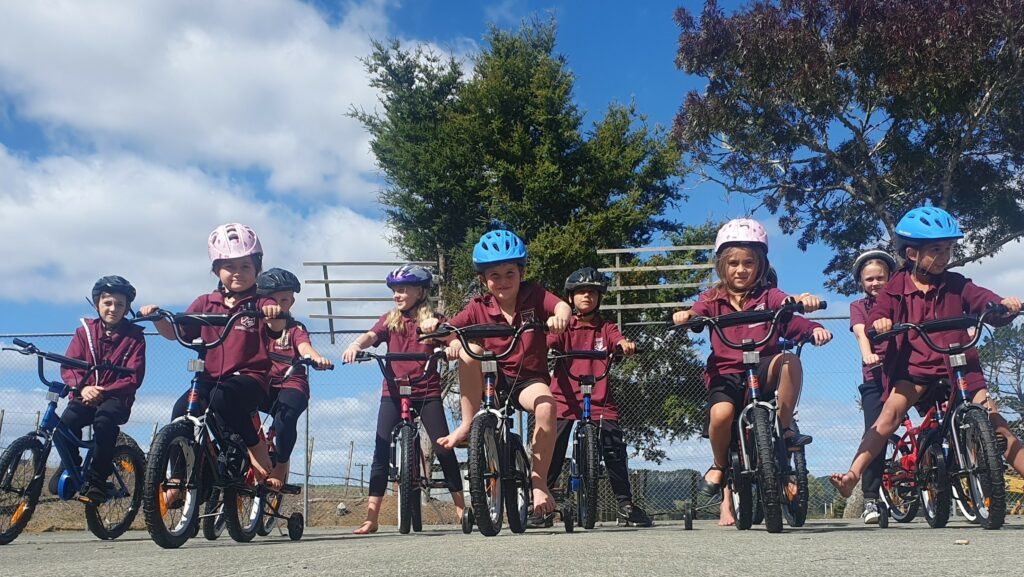 We are proud to have donated 10 bikes to Oruaiti School, a school chosen with the help of a property advisor who knew they had a project to build a mountain bike track. We specifically chose bikes that were easy to maintain and ride, such as single speed bikes. The children and principal were thrilled with the bikes, especially since many of them may have never had the opportunity to ride before.
It was heartwarming to see how invested the teachers were in providing new opportunities for the children, with much of the bike track being done outside of normal hours. The bike track they were making was done by professional trades, but all scheduling, planning, and phone calls were completed by the primary school children! The school used the many problems as a chance to engage the children, asking them questions like how to get a digger from the car park to the track, how to get a digger over the fence, and how to get the best use of the land.
We were also delighted to have used the trip north as a way to engage with the Ministry of Education, showing one of their new project managers around Paihia School which had an installation in progress. It was great for the ministry to experience some of the issues faced on a regular basis, such changes of scope due to life expired wiring etc. As usual, our staff and trades were excellent in their commitment to health and safety, record keeping, presentation, and communication with school staff and students.
The trip home took 7 hours due to road closures caused by recent cyclones, which gave us a glimpse into the challenges faced by our staff who do similar journeys on a regular basis. We are proud to have supported Oruaiti School and we look forward to continuing to work with them and other schools to create safe and engaging learning environments for students. Oh, and we also enjoyed a lovely morning tea provided by the school!