Originally published in InsideGolf, Jan 2016
With maintenance costs rising, and member numbers struggling, many clubs are at crossroads when it comes to the best and most cost-effective way to maintain their course while still presenting the best possible conditions for members and guests. Clubs and boards are faced with a decision: is the traditional in-house golf course maintenance model still preferable? Or is it more cost-effective to outsource?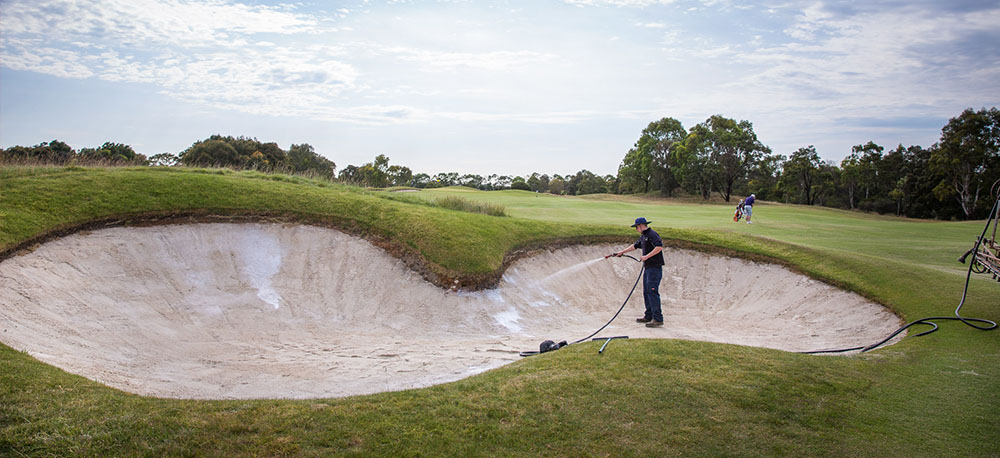 The Sandhurst Club, in Melbourne's south east, decided to go against tradition with the maintenance of its golf courses. As one of the most prominent clubs in the country and the official home of the PGA of Australia, the Sandhurst Club outsources the maintenance of both its courses to Programmed Turnpoint, and their courses have never looked better.
Programmed Turnpoint was initially contracted to construct the Thomson Perrett designed Champions Course at the Sandhurst Club. After an extended construction period the course opened for play in 2008 and sat alongside the Club's North Course which had opened some four years earlier.
Early on, both courses were renowned for their quality of playing surfaces, and they hosted many state championships such as the Victorian Mid-Amateur. However, after successive years of deteriorating course conditions (caused through a combination of factors), and a resulting decline in membership numbers, the developer and Club board were forced to reconsider their management structure. Part of this review involved the reassessment of having an 'in-house' course maintenance team and consideration of adopting an outsourcing model.
It was suggested in some circles that the initial design and construction of the Champions Course and North Course were to blame for the poor conditions of the courses and if proven correct would potentially lead to expensive and timely rectification works.
Another option was to move to an outsourced maintenance model with a firm understanding of the prevailing conditions on site and the goals of the club to be achieved. Programmed Turnpoint carried out an assessment of both courses and recommended that prevailing course conditions could be resolved with different management strategies rather than extensive and costly reconstructive works. Programmed Turnpoint was so confident in this that they actually guaranteed they could dramatically improve the presentation and playability of the courses within two years if the maintenance was outsourced to them.
The board and Club decided to take this chance and outsourced its golf course maintenance to Programmed Turnpoint. Since then, Programmed Turnpoint have greatly improved the condition of both courses to bring them back towards to their original state. As well as implementing successful greens renovation and maintenance strategies, they also ensure communication lines are always fluid via regular monthly meetings between our maintenance team and the club's management.
The move from the traditional in-house golf course maintenance to an outsourced one proved to be a successful decision for the board and club. As a result of this, the courses are in great condition, which in turn has led to a steady increase in membership levels helping cement the club's financial viability for the future.
Click here to find out more about our golf course maintenance services.