Your school's sport season doesn't start with the first game of the year, but with the establishment of high quality sports turf.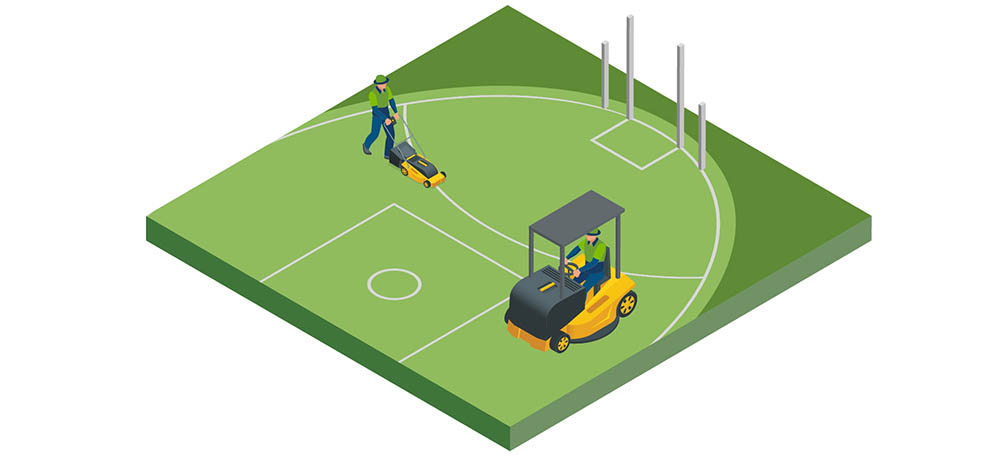 Keeping turfed areas to a high standard despite heavy usage is not always easy. These six quick tips, however, are a good place to start.
1. Choosing the right turf
To have high quality sports turf, use the right turf. Think about the sports your students play most. In line with this, choose turf able to provide appropriate coverage, has growth and recovery timeframes that align with how frequently the grounds will be used, and able to withstand constant wear and tear. These elements are essential to making sure you have sporting grounds accessible throughout the year.
2. Testing for PH levels and nutrients
Regular soil testing helps you know that you have the right balance of nutrients and PH levels. You can also identify deficiencies and pests early on so any corrective measures can be swiftly implemented. Soil testing keeps your root system and soil quality protected so you have even, healthy growth able to minimise the likelihood of falls and on-field injuries.
Importantly, regular testing provides you with quality turf when it matters most as you'll be able to instigate and time preventative action able to see fertile and vibrant grounds in time for the sporting season.
3. Aeration
Constant and heavy usage hardens and compacts your turf. Aeration prevents this. It facilitates proper circulation of air, water and nutrients; roots breathe better and are able to absorb proper nourishment. This yields stronger, healthier turf. However, before aerating, be sure to mark the locations of any sprinkler heads, shallow irrigation lines, septic lines and buried utilities.
4. Stem Density
The key to a more bouncy surface is stem density. The higher the density, the better the ball movement, traction, fall resistance, and appearance. Mowing fosters high stem density, and maintaining the right height is essential. Too short and grass will die off, too long and you'll end up with thatched turf. Ideally, grass height should be between 25 – 40mm.
5. Weed Control
Weed control is critical to sports turf maintenance. Weeds grow and spread quickly making turfed areas untidy. Weeds that trigger allergies or attract bees become hazards while thorny weeds cause discomfort. To combat weed growth, choose practices and weed killers able to eliminate weeds without affecting the turf itself; and be careful when handling such chemicals.
6. Line marking
If establishing a sports turf from scratch, mark the entire area correctly at the start to ensure that the lines are set to standard and in the right location. If possible, use environmentally friendly line-marking products. Sometimes, applying additives to line-marking paint preserves the line-markings even when the paint fades out, reducing the need to reapply the lines.
You may by now have realised that growing grass is easy. Yet ensuring it is healthy and consistent, regardless of the season, while maintaining it to a high playing standard despite varying levels of usage, requires expert guidance.
Let Programmed's expertise and knowledge keep your sports turf in top condition all year round so you can always be sure of kicking goals. Why not speak to us today?
Click to read more about…