Workforces are gradually starting to return to physical offices after a year of zoom meetings and virtual drinks, so what better time is there to consider a makeover? Take a leaf from your favourite 60-minute reality shows to update the space, building and site that you're currently in.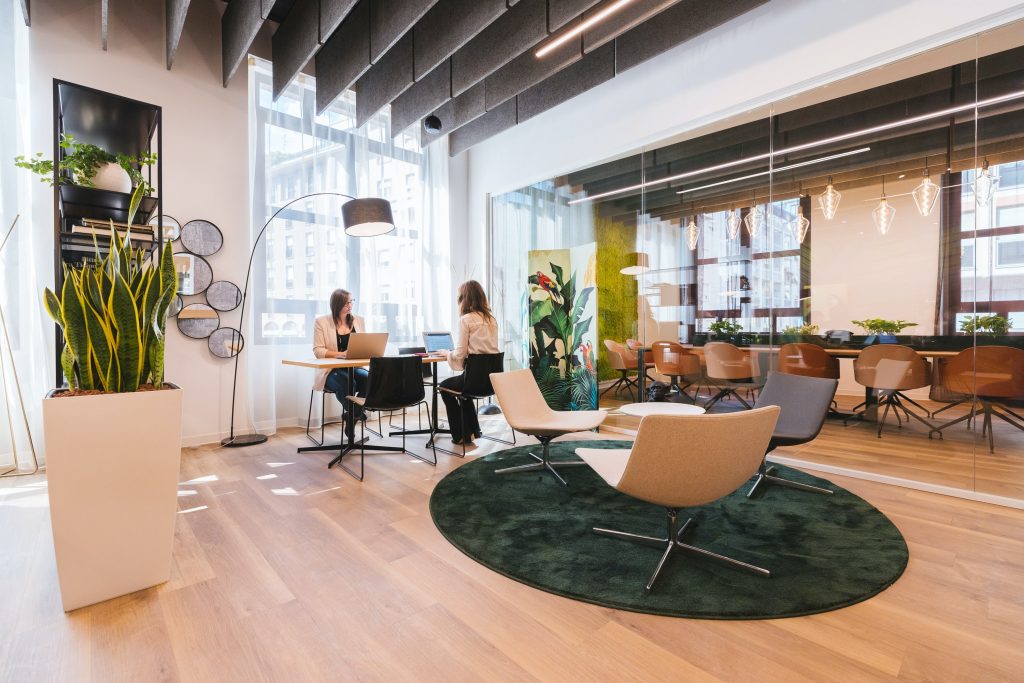 A 2019 report by workplace solutions company Fellowes titled The Work Colleague of the Future revealed that poor workplace wellbeing is having a major impact on productivity, engagement, attendance and profit levels. Referring to workspaces as 'health traps', authors of the report implored employers to address the workstations, office equipment and environment they provide to better cultivate a healthy, engaged and efficient workforce.
Where to start? There's no need to reinvent the wheel when updating your space. Rather, tap into well-worn trends to ensure your makeover is contemporary, while being careful not to lean too heavily on overnight sensations – a timeless update will ensure you don't have to redo your space every year.
Space
Start with determining whether your office space needs a refurbishment or renovation or neither. Refurbishment typically implies cleaning, decorating, or retrofitting a space so it has features like more attractive interiors and exteriors, higher quality electrical appliances and heating or cooling systems, double-glazed windows. Renovation refers to restoring something to an optimum condition.
When deciding which spaces to update, prioritise high-profile, high-traffic areas and facilities which most affect the perceptions of your organisations and are most frequented or used by both your employees and customers. These include:
entrances – the lobby or reception
gardens, which are often the main entrances to wineries, retirement living villages and schools
main office or retail area
site identifiers, such as pylon signage or sky signage that identifies a building, whether it's signage for the local town hall, a heritage-listed building, school, auditorium, or gymnasium
front-facing areas prone to graffiti.
According to the Fellowes report, 25% of all workers today are unhappy with their office climate, which is exacerbated by inconsistent equipment, heat and temperature fluctuations, and low air quality. A study referenced in the report revealed that employees in artificially lit offices slept 46 minutes less per night than those who worked with windows, and the sleep they did get was less restful. Consider improvements in the heating, cooling, ventilation, and lighting of your office.
The benefits of updating a space range from making it more user-friendly and inviting to finding new life for unused or underutilised sections.
Paint and colour scheme
A fresh coat of paint can do wonders. It's a fast, simple, and cost-effective way to revitalise your space with immediate benefits.
When making the decision on which hue to choose for your office, explore colour psychology. Different shades can conjure various emotions, so it's important to think about the atmosphere and feel you want to create. Deep, bold hues can evoke confidence and convey qualities such as loyalty, trust, and peace while lighter shades cultivate feelings of calm and tranquillity.
Drilling down into specific colours yields even more nuanced feelings. Green immediately brings nature to mind and stimulates thoughts of balance, growth, and restoration. Yellow evokes a sensation of light and space, and relates to joy, vitality and optimism. Grey is thought to typify security and solidity.
Whether you're looking to add sporadic, well-placed bursts of colour or redo an entire space in a new colour palette, be sure to think about what feeling you're trying to evoke and the best way to do it.
Plants
The plant craze isn't just confined to homes – employers are finding that adding a touch of nature to office spaces can reduce stress, boost creativity, improve the air quality and make the space a more welcoming one to be in, thereby increasing employees' productivity. According to research conducted by the University of Exeter across Australia, the UK and the Netherlands, office plants can assist in boosting employees' wellbeing by up to 47% and increase productivity by 15%.
Be sure to choose the most suitable plants for the most optimum locations – low- maintenance plants are typically the best – and be sure to opt for a variety of plants that bloom at different times so there's always a burst of colour and range of textures throughout the seasons.
Whatever you decide to do, Programmed has various options to flexibly fit almost every refurbishment, renovation or maintenance need you may have. Explore your options and speak to Programmed today.