The restorative power of nature has never been as clear to urban dwellers as it has been throughout the pandemic, with residents in lockdown-affected cities rediscovering the parks, riversides and waterways in their five or ten-kilometre radiuses with newfound time and little else to do.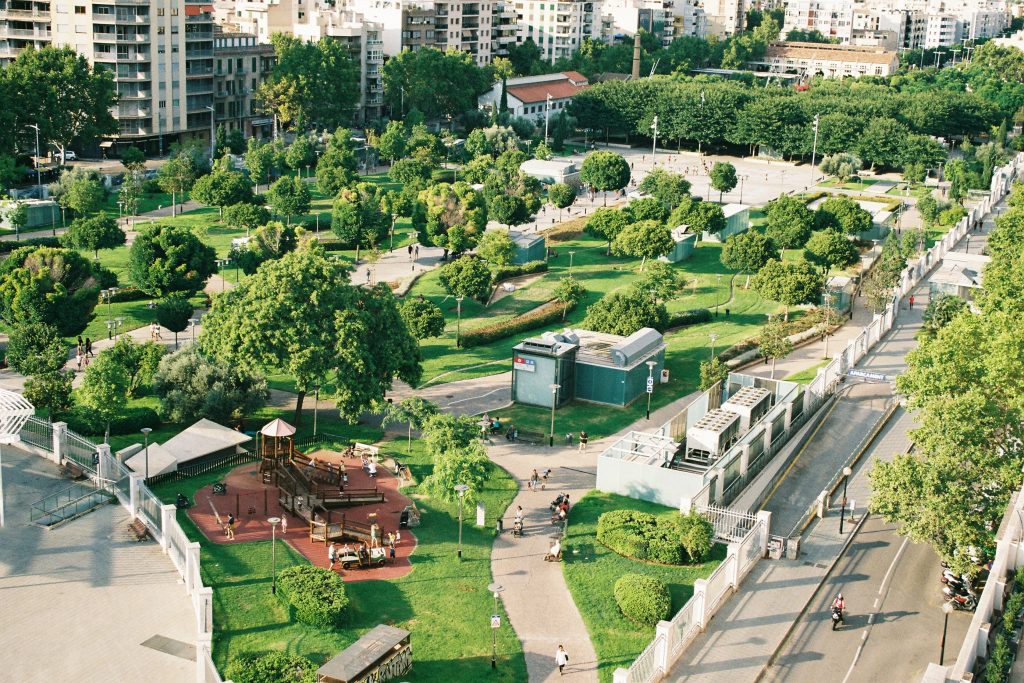 But even before the pandemic, there was a recent revival in creating green spaces to support healthy living in urban areas, with two thirds of the world's population forecast to live in cities by 2050 – that is, 2.5 billion more people than today.

WHO recently published a paper Urban Green Space Interventions and Health where it acknowledged the importance of urban green space, calling it a "necessary component for delivering health, sustainable and liveable cities".
"Interventions to increase or improve urban green space can deliver positive health, social and environmental outcomes for all population groups, particularly among lower socioeconomic status groups."

Urban green spaces can range from smaller green space features such as street trees and roadside vegetations to larger green spaces that provide various social and recreational functions, like parks, playgrounds, greenways and urban woodlands, and larger blue spaces like ponds, coastal zones, riverside footpaths and beaches.

The benefits of green spaces are manifold, but the four main ones are thought to be improved air quality, enhanced physical activity, stress reduction and greater social cohesion.

Improved air quality

Vegetation such as trees, shrubs, herbs and grass can dampen the impacts of road traffic and industry noises and improve air quality in urban residential areas. Meanwhile, trees and other vegetation can decrease levels of air pollutants and reduce atmospheric carbon dioxide through carbon storage and sequestration.
An associated benefit of urban green spaces like parks is that they reduce what is called the 'urban heat island effect' (UHIE), which is a serious health hazard during heatwaves. Urban parks have an average cooling effect of approximately one degree Celsius, with the same data suggesting an effect of up to one kilometre from the park boundary.

"During warmer weather, trees can provide shade and reduce the demand for air conditions and, especially, in warmer countries, they can provide comfortable outdoor settings and allow people to avoid heat stress. In cooler climates, trees can also provide shelter from wind and thereby reduce heating demand in the cold season," according to a 2016 WHO paper.
Enhanced physical activity
Physical inactivity was identified as the fourth leading risk factor for global mortality and features of urban environments, like high traffic volumes and lack of parks and footpaths, don't help. Several studies have revealed that recreational walking, increased physical activity and reduced sedentary time were associated with greater access to urban green spaces. 'Green exercise', that is running in a green space like a park, was shown to be a more restorative experience if compared to running in an urban environment.

The broad benefits of physical activity are improved cardiovascular health, mental health, neurocognitive development, general wellbeing as well as prevention of obesity, cancer and osteoporosis.

Stress reduction

The mental health benefits from having contact with nature and green spaces are well documented. Various studies have shown that viewing or being in a green space have led to reduced blood pressure, heart rate, pulse rate, muscle tension and sympathetic nerve activity when compared to city environments.

Walking in natural environments has been shown to produce stronger short-term cognitive benefits than walking in a residential urban environment, doing activities in green spaces such as gardening have been shown to reduce chronic stress and exposure to green spaces has been shown to alleviate depression symptoms.

Greater social cohesion

Green spaces can foster social interactions and promote a sense of community, with an uptick in trust, shared norms and values, positive and friendly relationships, and feelings of acceptance and belonging. Conversely, a shortage of green spaces has been linked to feelings of loneliness and a lack of social support.
Everyone can benefit from urban green spaces, but they're especially important for socially disadvantaged communities, which often have the least access to high-quality green spaces. From their wide range of mental health, social and physical wellbeing benefits to their positive effects on community building and environmental sustainability, the importance of urban green spaces can't be overstated. Overall, they present powerful opportunities for public health.

Programmed is passionate about horticulture and urban green spaces able to positively impact the communities we live and work in. Speak to us and explore how we can simplify and streamline commercial grounds maintenance and landscaping for your school, retirement living/aged care facility, university, business or organisation to make it the best that it can be. Speak to Programmed today.