There's no denying the current demand for digital signage is of paramount importance with an ever growing need to increase customer engagement via marketing content and to differentiate ourselves from our competitors. But before you jump headfirst into digital signage, you need to first address three important questions of what, where and how.
by Ben Britten
National Business Development Manager, Programmed Property Services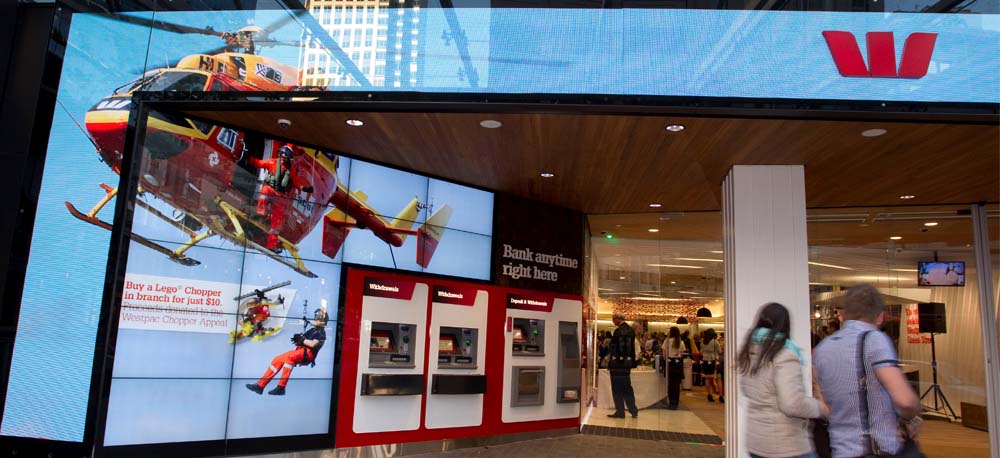 Westpac New Zealand: images supplied by Eyemagnet – www.eyemagnet.com 
Over the past four years, digital signage has transformed the way we look at the content we use and its location. Long past are the days of printed media with a monthly to quarterly shelf life, containing one dimensional graphics that merge into each other as we all go about our day-to-day lives.
Nowadays, to gain that competitive edge it's imperative to display the right content at the right time – to be able to react to major changes, be it news, weather, traffic, or even competitor campaigns.
Creating a new engagement and being a brand on top of what you and I are conscious about at that time gives that edge. Digital signage can achieve this. It has the ability to display live content and this results in it becoming an uninterrupted live branded channel in the face of our customers.
With the vast amount of digital signage hardware and software being pushed onto the market – the first thing you need to do when considering digital signage is to ask these two questions:
What content do you want to display?
Where do you want this content displayed?
Hardware becomes a 'means to an end' and knowing the answers to these two questions will narrow down your hardware selection drastically and inevitably reduce costs. Whereas, selecting a product first and then asking these questions later can become an extremely timely and costly experience.
Internal displays come in many ranges depending on hours of use, size and brightness requirements. External screens have now moved away from single colour 'ticker' screens to high bright LCD displays and large full high definition LED displays.
Brightness levels and viewing distances are the major factors to consider here. LED digital displays have become more affordable in recent years making them more common in a variety of industries. Combining the right content and hardware can give a 'pleasing to the eye' solution unlike past LED technologies.
Controlling the content on individual displays or across a large global network is readily available with cloud based Content Management Systems (CMS). When selecting a CMS, the third vital question you need to ask is how – how will we show content, will it be managed internally or externally?
I have supplied various clients with software licensees and training courses to have the ability to own and manage their own content and scheduling, only to revisit them three months later and see the same below average content playing on a continuous loop. The reason being staff have forgotten to change it or the trained employee has since left the company and no one else knows how to control it. Resources need to be considered.
More commonly now, consider having the software provider manage it for you. If not, make sure your software provider includes a rapid response ticketing service or similar. 24hr support is critical when managing this in-house to aid in these times of need.
Combining the right corporate imaging with the latest technologies is becoming more noticeable across Australia and New Zealand in many industries. Bridging the knowledge and experience of marketing with IT within a business is imperative to reach the ultimate goal of being noticed.
For more information on digital signage and the full turnkey solution contact Programmed Property Services.