Approach maintenance from four broad levels, namely: presentation, protection, preparation and partnership. Utilise this '4P's framework' to help you plan a better and more successful maintenance strategy. 
What entices people to engage with your business, purchase your product or use your service?
Various factors shape the decision making processes of a prospective customer. Maintenance—so you never miss your chance to impress—is an important but often overlooked factor due to its inconspicuousness. While it doesn't always show immediate returns, maintenance can play a critical role in influencing a customer's purchasing decision.
Programmed's 4P's framework helps to get the maintenance challenge right.

Presentation: What impression do you want to make?
Enable your site and service offering to reflect and meet customer demands through the impressive presentation of your site and facilities, inside and out.
Well-maintained structures and surfaces, captivating gardens and prominent signage not only serve as your first contact points with customers, but they also communicate your brand and values. They provide an aesthetically appealing environment for your customers to engage with you, making them more likely to buy from you.
Clean exteriors and inviting interiors also instil a sense of pride in your staff. The interplay between workspace and work means that employees in well-presented surroundings are more likely to be happy and to feel valued. This in turn cultivates happy, motivated employees and higher profits.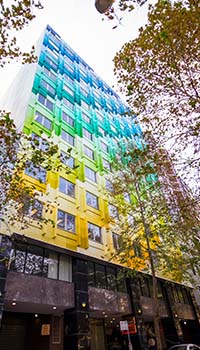 Take 162 Goulburn Street for example. A full repaint transformed the dull, salmon pink building into a defining feature of Surrey Hills.
The new colour scheme with over 840 colours, has increased property value by over 10% and sparked interest and positive feedback from the public.
The Designteam, a creative agency on the tenth floor, are proud to come to work every day, working in a building that personifies their creativity.
To ensure the presentation of your property, assets and store looks its best at all times, incorporate key maintenance avenues such as cyclical washing, preventative painting programmes, grounds maintenance, wayfinding and signage to your maintenance strategy. If necessary, consider a full repaint or colour change so your site modern or reinvigorated.

Protection: Maximise your investments through smart maintenance
Maintenance safeguards your built and physical assets, ensuring optimal functionality, extended lifespan and maximimum returns.
Maintenance developed around individual asset types and conditions utilising lifecycle planning in conjunction with current and predicted asset conditions allows for informed decision making and targeted implementation. These pre-empt breakdowns, help avoid the need for constant repairs and stave off expensive replacement costs.
Integral to protection is risk mitigation. This encompasses everything from ensuring the safety of tenants, customers and staff, to making certain regulatory building compliance. Where such knowledge is not immediately found among your personnel, the advice of professional facility and property management experts can be useful.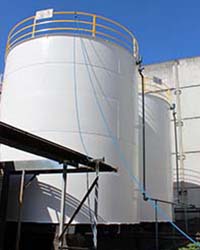 Such expertise proved quite beneficial to Wilmar Sugar. Reports found that corrosion and rust were deteriorating the structural integrity of their ethanol tanks.
The cost of removing an unsafe tank could amount to $20 million, and if one of the tanks were to fail an integrity test, let alone two or three, it would cripple the business.
If like the Wilmar Sugar site, yours has ethanol or other kinds of highly flammable liquids and combustible gases, the slightest spark could trigger a catastrophe. Working with a company proficient in safety, risk management and compliance is imperative.
For Wilmar Sugar, they had an incident free completion of works and preserved the tanks' structural integrity for another 10 years. With so much at stake in terms of risk and reputation, such external expertise can prove extremely valuable.

Preparation: What is the best way to reach your customers?
With the acceleration of digitisation and technology as disruptors, businesses have to act today to prepare for tomorrow.
For seamless and consistent engagement across both digital and physical channels, technology including hardware, software and all aspects of integration need to be assessed, upgraded or reformed in anticipation of change. So too the notion of 'space'.
Re-evaluate the relevance of the physical form and function of your facilities and its ability to meet customer needs while contributing to the business performance. By maintaining elements that your customer values in your space and technology, you'll be able to drive conversations and deliver a more valuable experience.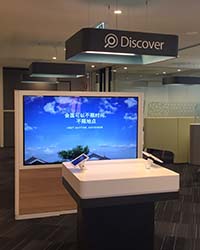 Since digital infrastructure plays a critical role in their customer experience, ANZ rolled out an upgrade and fit out programme, equipping all their branches with up-to-date technology, digital signage and new audio visual systems to create an unforgettable customer journey, no matter which branch the customer visited.
To respond nimbly and effectively to digital disruption, businesses need to integrate their future demands for technology, connectivity, infrastructure and space utilisation with current capital works.

Partnership: Is maintenance deterring important resources and time?
It can often be more cost-effective to outsource maintenance to specialists, freeing you to focus on your core business.
The outcomes of successful maintenance can only be seen after an extended period of time, so if you're looking to outsource, it's imperative you choose the right supplier partnership.
Intuitive management of maintenance should free up your time, resources and personnel from being involved in smaller details and your maintenance partner should be fully committed to ensuring and delivering on-going results.
Moreover, developing a partnership with long term horizons will allow you to address your current requirements and future needs.
Proper maintenance can help enhance your brand and elicit the required behaviour from your target audience to help meet your business strategies. Work with Programmed, a partner with over 60 years' property and facility management experience to make smarter maintenance management decisions.
[maxbutton id="1″ ]