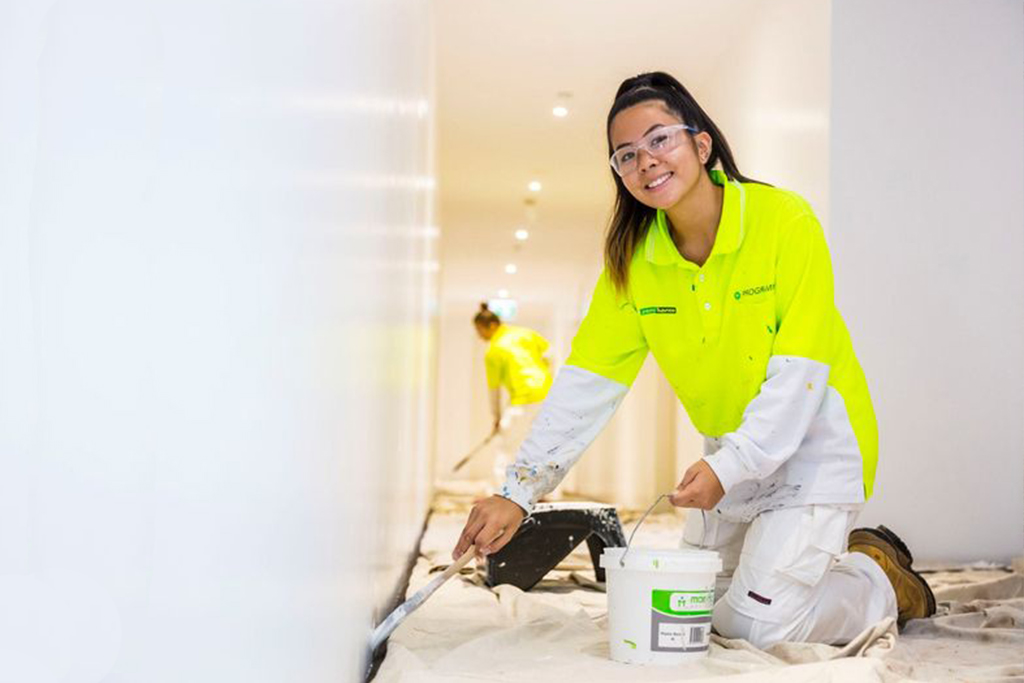 Well maintained school buildings are essential in enhancing your educational facility's reputation and student learning experience. When it comes to repainting, schools do not typically see winter as the best time to complete paintwork. However, contrary to popular belief, we'll show you why winter is the perfect season to refresh your school's interior.
Maintenance on your terms
The winter school holidays result in classrooms being empty, meaning it is the optimal time to complete works outside of normal school activity. Outdoor and exterior works may be less over the winter period, meaning maintenance providers can quite likely gear themselves up to undertake more interior works, completing these in shorter periods. This presents winter as the perfect time to take full advantage of their availability to accomplish maintenance on your terms.
Forward planning
Vacant classrooms and learning spaces mean audits and measurements can be carried out accurately, without disruption. This is the case for repaints and refurbishments as well as grounds and gardens. This time allows for adequate preparatory work for large scale projects, which can be planned for the longer summer break. With more time to prepare, the costs can be adequately outlined enabling you to see better results due to more accurate budgeting.
The longer summer period is ideal for major works, coupled by prolonged sunny periods perfect for exterior repaints. Winter generally brings more rain, which means it can prove challenging to complete works outside. Planning ahead and completing interior painting in winter will ensure your school's presentation is immaculate while being completed on schedule.
Faster works
The winter period also provides the ideal environment for paint to dry faster. The summer months generally coincide with increased humidity and warmth, which can interfere with the paint's drying process. The winter months' colder and crisper air are conducive for paint to dry more quickly. This results in works being completed promptly and in time for the third school term to commence.
Low and zero VOC paint options
Some paints contain high levels of Volatile Organic Compounds (VOCs). Excessive or prolonged exposure to these are undesirable. Thankfully, over time, manufacturers have developed low and zero VOC paint formulas, which minimise paint odour and hazardous side effects. Programmed utilise these environmentally friendly paints which create beautiful interiors and also improve the overall air quality. Painting during the holiday periods has the additional benefit of allowing time for residual paint odour to dissipate.
Morale booster for children
Repaints have been proven to enhance student productivity and morale. Firstly, low VOC paints improve indoor air quality and the consequential impact on student health.
Secondly, the presence of new, fresh colours bring a sense of excitement. Well-chosen palettes can work wonders in helping to boost students' academic performance and productivity.
A major study conducted by the Canadian Government's School Environment Impact Research Study, 2014, outlines the positive relationship between regular school maintenance and educational outcomes. This has been supported by well-accepted principles of colour psychology which an interior refresh can leverage to reinforce their benefits.
(Our EGuide on Visual Merchandising for Schools includes advice on how to use colour to help draw attention to key aspects of your school so you can impactfully sell your school's uniqueness.)
Painting is just the beginning
Empty classrooms provide the perfect opportunity to execute a repaint; however, why stop there? The winter period allows time to create more spaces and improve the quality of your school's facilities. You can utilise this time to produce more expansive spaces and consequently generate an environment conducive to collaborative learning.
Good signage is an unsung brand hero for schools. When was the last time an audit of signage was undertaken? Winter holidays are ideal for signage updates. Modular signage is a great tool for schools. It allows for wayfinding to keep apace with growth, construction and renamed rooms, without the need for removal or reinstallation.
Maintain efficiency with a review of grounds and garden areas, sports turfs, play areas and gardens, especially high profile entrances, undertaken at this time. Allow yourself ample time for planning, budgeting and the ability to ensure well-orchestrated works programmed to be undertaken simultaneously during the longer school breaks.
Simple forward planning can help propel your school to the next level beyond that of competitors to the benefit of your students.
What to look for in a maintenance provider
The quieter winter months may bring with them an increase in the number of available contractors. This competition is good for schools. However, it is essential to note that not all commercial painting contractors are created equal. It would be best to choose a supplier who puts your needs first and is able to ensure your school realises the incredible available opportunities for injecting life and colour into your school.
A company like Programmed has the skills and experience to help your school with multiple aspects of an interior makeover. Whether it be painting, space refurbishments or grounds updates – Programmed has you covered.
Make the most of winter and get in touch with Programmed today to enhance the presentation, quality and value of your school!
Did you find this article useful? Get more comprehensive advice and principles on Visual Merchandising for Schools with our FREE EGuide. Download it today.